Creating a larger voice for New Mexico Agriculture.
The New Mexico—Taste the Tradition® Chef Ambassador Program was created by the New Mexico Department of Agriculture's Marketing and Development Division (NMDA) out of a need and desire to create a larger voice for New Mexico agriculture and leave a lasting impact on buyers and consumers both in-state and nationally.
Learn more about our two current Chef Ambassadors, their culinary journeys, and passion for all things New Mexico agriculture.  To see them in action, look for them at events such as the New Mexico State Fair, HomeGrown, food shows across the country, in the media, or online through our social media platforms.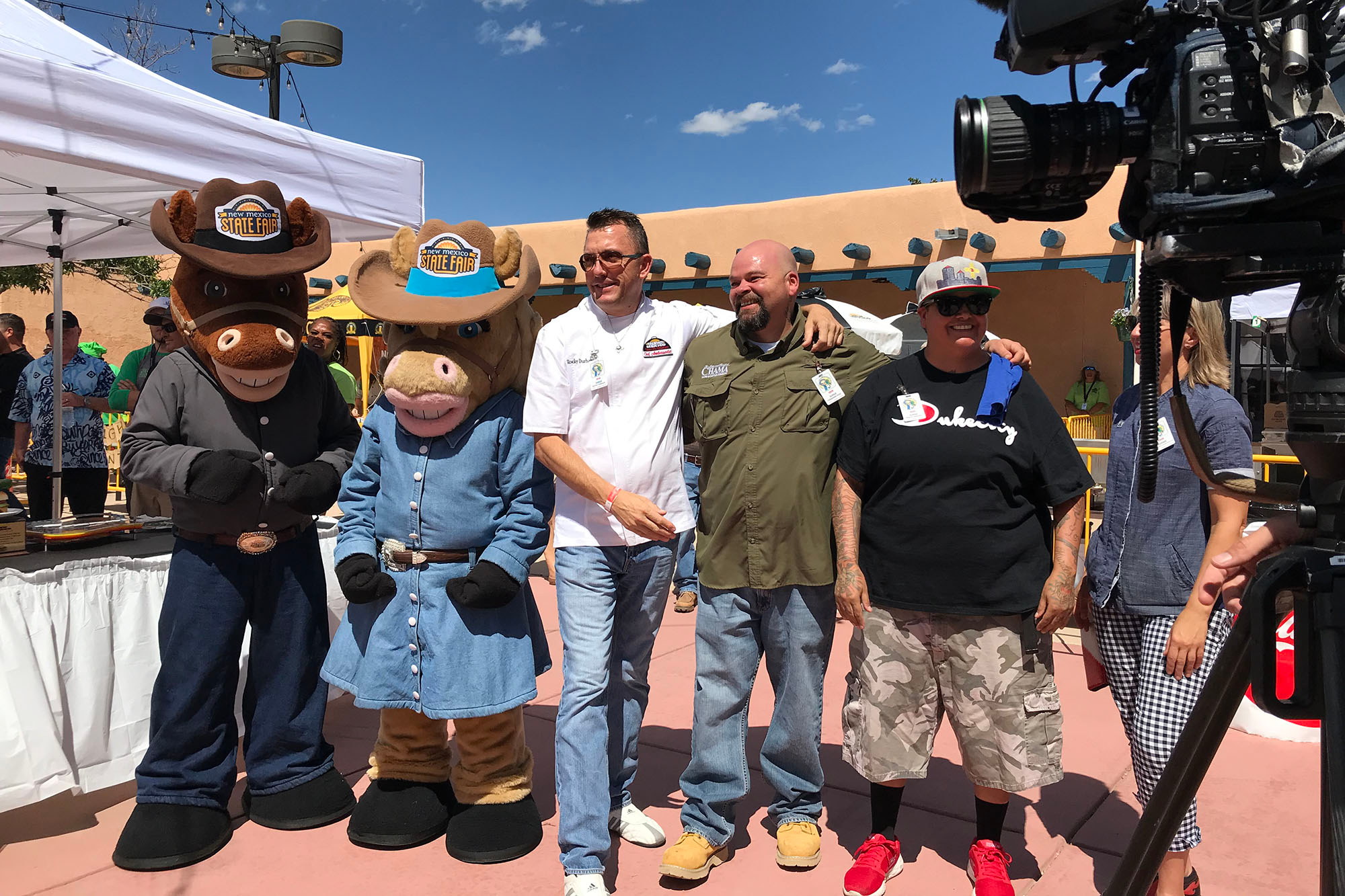 Chef Rocky
Chef Rocky started his restaurant career in the dish area of a French bistro in his native Santa Fe. His first chef and Mentor, Jean-Jacques Alexandre noticed a spark in young Durham and offered him an apprenticeship.
Chef Rocky went on to get his degree in Classical French Technique in Portland, Oregon. Armed only with his knife roll, Durham traveled and worked in some of our Nation's food capitals.
In 1999 he moved to London to head up a small restaurant group named after his beloved home town. In three years there were Santa Fes in 8 British cities. While in the U.K. Durham wrote and presented two television series; Plates From The States and South Of The Border.
Durham has worked professionally on five continents, but his favorite place to be is still New Mexico where he currently resides.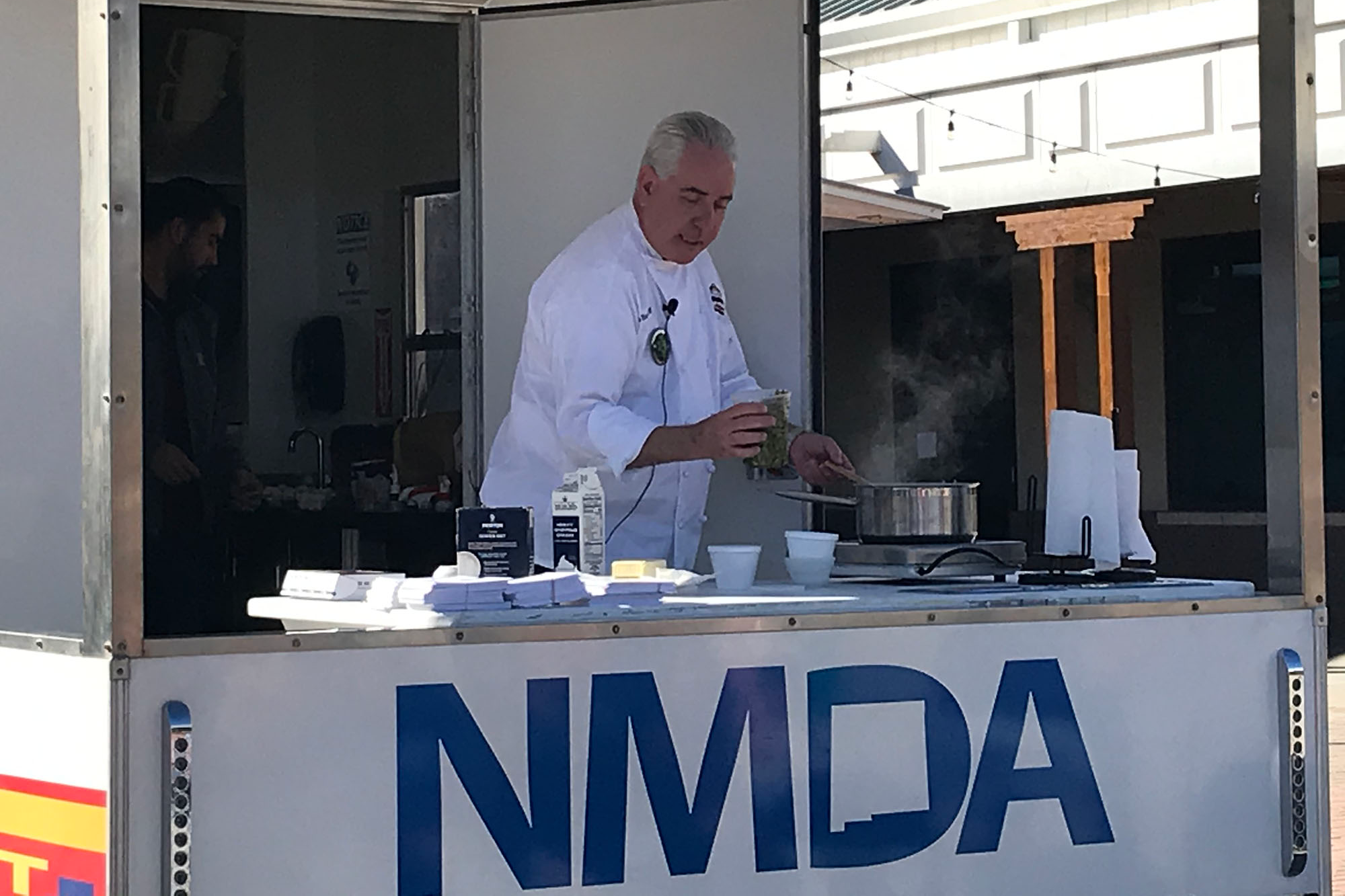 Chef John Hartley
Chef John Hartley is currently serving as a College Assistant Professor in the School of Hotel, Restaurant and Tourism Management at New Mexico State University, teaching quantity foods courses and managing the School's 100 West Café. He holds a Master's degree in Business Administration, 2000 from NMSU, a Bachelor's in Hospitality & Tourism Services, 1994 from NMSU, and is a graduate of the California Culinary Academy 1988.
Chef Hartley's culinary and management background spans over thirty years including Food & Beverage Director at Fresno Pacific University, F&B Director/Executive Chef of The Pagosa Lodge and Resort, Production & Cash Operations Manager for Aramark Managed Services, Executive Chef of Ciao Bella, Inc. and The Safari Bed & Breakfast, and Owner of Catering by the Bay and Hartley-Zeck Culinary Consultants, LLC. His experience includes world-class restaurants, hotels, resorts, multi-unit management, contract management, catering, and consulting. Highlights of his career include cooking for President George H. W. Bush, President Bill Clinton, the Pope of the Armenian Catholic Church, and numerous celebrities. He is a member of the American Culinary Federation, the Council for Hotel, Restaurant & Institutional Educators, and is a past member of the National Executive Chef's Association. Chef Hartley has also served on the Board of Directors for the Mesilla Valley Youth Foundation and Team Zane Celebrity Fundraiser.
As a native of Las Cruces and a graduate of NMSU, Chef Hartley takes great pride in giving back to both his childhood community as well as his alma mater.