See what all we've been cookin'! We hope that these recipes will inspire you to incorporate NM-grown and -made ingredients into your meals.
Pecan Crusted Chicken Nuggets
View Full Recipe
1 1/2 pounds boneless skinless chicken breasts, cut into nuggets
Salt and pepper to taste
1/2 cup all-purpose flour
2 cups crushed tortilla chips
1/2 teaspoon chili powder
1 1/2 teaspoons dried oregano
1/2 cup chopped New Mexico Pecans
2 eggs
1/4 cup milk
Preheat oven to 400 ℉. Line baking sheet with foil; lightly grease with cooking spray and set aside.
Cut the boneless skinless chicken breasts into pieces and place into a bowl. Season the chicken pieces with salt and pepper to taste. Add the flour and mix until the chicken pieces are coated and set aside.
Place chips in a food processor or blender; process until well ground. Add the chili powder, dried oregano and pecans, pulse a few times, or until finely ground. Transfer pecan mixture to a plate.
In a bowl whisk the eggs and milk. Dip chicken pieces in the egg mixture and then roll in the pecan crumb mixture to coat. Place coated chicken nuggets on the prepared baking sheet. Bake for 20-25 minutes, or until the chicken is cooked through, turning once halfway through cooking.
Recipe credit to: U.S. Pecans
Tarragon Chicken Salad Sandwich
View Full Recipe
1 rotisserie chicken, cooked and shredded
1/2 cup celery, chopped
1 cup seedless grapes, quartered
2 tablespoons fresh tarragon, chopped
1/2 cup mayonnaise
1/2 cup sour cream
1 teaspoon Worcestershire sauce
1/2 cup New Mexico pecans, toasted and chopped
Salt and pepper to taste
Croissants
Leaf Lettuce
Shred rotisserie chicken in a large bowl. Combine chopped celery, quartered grapes, chopped fresh tarragon, mayonnaise, sour cream, Worcestershire sauce, and chopped pecans into the large bowl with the already shredded chicken. Once all the ingredients have been added to the bowl, mix until fully incorporated. Season to taste with salt and pepper. Refrigerate for 1 hour.
Split croissants in half. Place a piece of leaf lettuce and a scoop of chicken salad in each.
Recipe credit to: U.S. Pecans
Goat Cheese and Pecan Shortbread Tart
View Full Recipe
Pastry:
2 cups New Mexico pecans
3/4 cup sugar
3 cups flour
2 sticks (1 cup) unsalted butter, cut into pieces, softened
1 egg
1 teaspoon vanilla extract
Filling and Garnish:
2 eggs
12 ounces of goat cheese, crumbled
1 cup heavy cream
1/2 cup honey
Pecan halves, lightly toasted
For the pastry, combine the pecans and sugar in a food processor. Process until the pecans are finely chopped. Add the flour and butter to the food processor, then process until mixed. Whisk the egg and vanilla extract together in a separate bowl. Once the egg mixture is whisked, add to the food processor and process until the dough forms.
Divide the dough into three equal portions. Press one portion into an 8-inch tart pan with a removable bottom. Chill for 30 minutes or longer. Save the remaining two portions of dough by freezing for future use.
Preheat the oven to 350 ℉. Bake the tart for 25 minutes or until golden brown. Cool in the pan on a wire rack.
For the filling, whisk together the eggs, goat cheese, heavy cream, and honey. A food processor makes this step extremely easy. Pour the filling into the baked tart shell. Bake at 350 ℉ for 25 to 35 minutes or until set. Chill in the refrigerator for 4 to 6 hours.
Decorate the top of the tart by making a ring with the pecan halves and finish garnishing with honey.  Remove sides of the tart pan and serve.
Recipe credit to: U.S. Pecans
Jalapeno Bacon Cheese Ball
View Full Recipe
2 (8 ounce) packages cream cheese, softened
3 jalapenos, seeded and finely chopped
1/4 cup of green onions, chopped
8 slices of bacon, cooked and chopped
1 cup shredded cheddar cheese
1 teaspoon of minced garlic
1 teaspoon of Worcestershire sauce
1/4 teaspoon ground cumin
1 teaspoon salt
1/2 cup New Mexico pecans, coarsely chopped
In a medium-sized bowl, mix together cream cheese, jalapenos, green onions, bacon, shredded cheddar cheese, minced garlic, Worcestershire sauce, ground cumin, and salt until fully incorporated.  On a large plate place the coarsely chopped New Mexico pecans. Shape the cream cheese mixture into individual balls and roll around in the chopped pecans until coated well. Cover with plastic wrap and chill for an hour before serving.
Recipe credit to: U.S. Pecans
Sweet Potato Red Chile Stew with Pecan Pralines
View Full Recipe
4 cups sweet potatoes, diced large
2 tablespoons vegetable oil
1 medium yellow onion, diced
2 teaspoons minced garlic 
1/2 pound diced New Mexico beef (stew meat)
1/4 cup New Mexico red chile powder
Water as needed
Salt and pepper to taste
In a large soup pot over medium-high heat, add oil, onions, garlic, and beef. Sautee until beef is brown on all sides. Add red chile powder and cook, stirring constantly for 30 seconds. Add sweet potatoes and cover with water. Bring to a simmer and cook for 20 to 25 minutes. Garnish with pecan pralines:
1 cup New Mexico pecans
1 egg white
1 tablespoon sugar
1/2 teaspoon cinnamon
1/2 teaspoon New Mexico red chile powder
1/2 teaspoon salt
Preheat oven to 350 degrees. Whisk egg white and sugar until soft peaks are achieved. Add remaining ingredients and mix thoroughly. Spread on a lightly-oiled cookie sheet, and bake for 15 to 18 minutes. Allow to cool completely.
Turkey-Green Chile Posole Gratin
View Full Recipe
2 cups diced turkey meat
1 1/2 cups New Mexico green chile sauce
3 cups cooked posole
1 cup cream cheese, diced small
½ cup New Mexico cheddar cheese, grated
Salt and pepper to taste
Mix together turkey, green chile, posole, and cream cheese. Season with salt and pepper. Place mixture in an oven-safe casserole dish. Top with cheddar cheese, and place in a preheated 350-degree oven for 25 to 30 minutes.
Black Friday Breakfast Enchiladas
View Full Recipe
2 cups diced turkey meat
2 cups mashed potatoes
1 cup gravy
2 cups leftover vegetables
New Mexico corn tortillas
1 cup Red chile sauce
1 cup Green chile sauce
Monterey Jack cheese
Eggs (optional, one per serving)
In an oven-safe dish, place 1/4 cup each of red and green chile sauces, then a layer of tortillas, then the turkey, mashed potatoes, gravy, and veggies; then cheese, and then more sauces. Repeat.
Place in a preheated 350-degree oven, and bake for 25 to 30 minutes. Serve with eggs cooked to your liking.
Pumpkin Bizcochito Cheesecake
View Full Recipe
2 cups bizcochito, crumbs
4 tablespoons melted butter
3 pounds cream cheese (room temperature)
2 cups pumpkin puree
1 cup sugar
6 eggs
1 teaspoon vanilla extract
Mix together crumbs and butter, and press evenly into the bottom of a springform pan. Place in a preheated 325-degree oven, and toast for 5 minutes. In a standing mixer or food processor, whip the cream cheese. Add pumpkin, then sugar, and mix until smooth. Add eggs one at a time, and then add vanilla. Pour mixture into the springform pan and bake for 45 minutes or until center is set. Allow to cool slowly before slicing.
Green Chile Pork Chops
A creamy sauce with just a hint of flavorful spice, tender pork chops, and radishes like you've never had them before!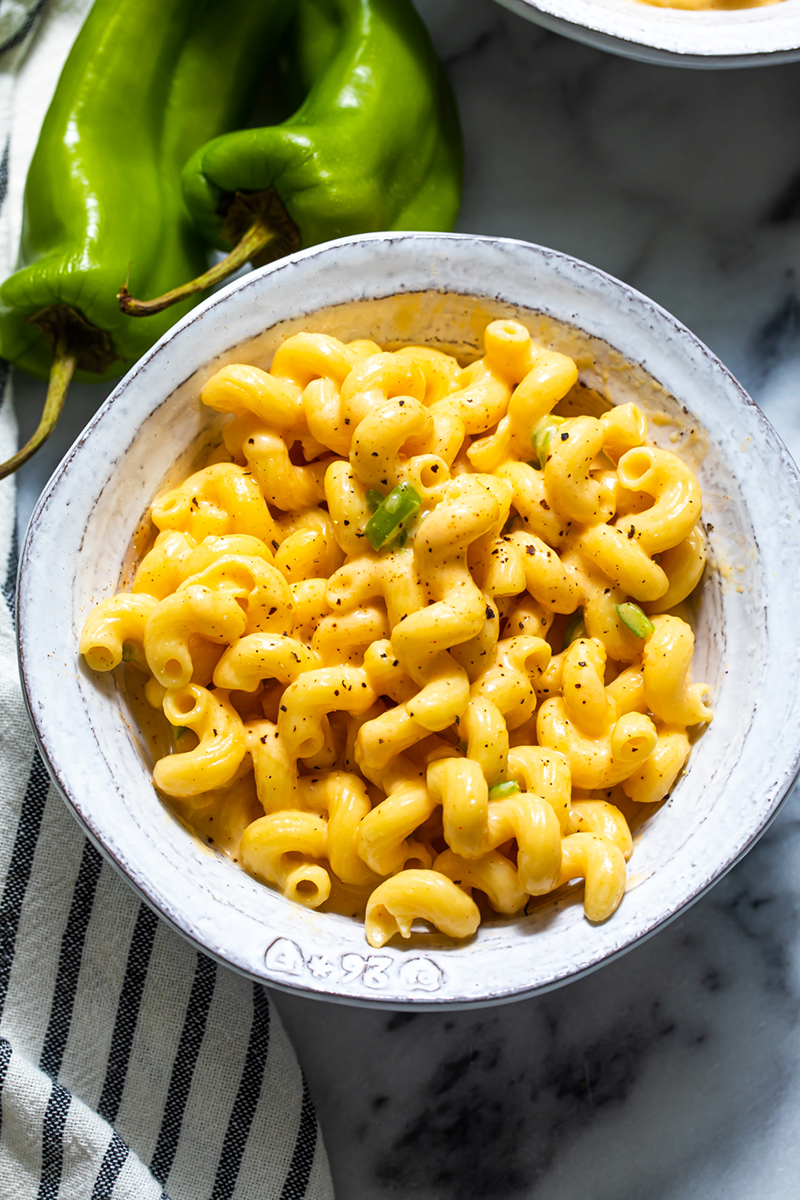 Macaroni and Cheese
This slow cooker mac and cheese with green chile is wildly decadent, rich, and loaded with flavor! Featuring extra creamy mac and cheese that is well seasoned and infused with a subtle heat from tasty green chile!
Air Fryer Biscuits
These Air Fryer Biscuits With Green Chile are a delicious addition to any meal! This easy one-bowl recipe with incredible New Mexico green chile beats boxed mix every time.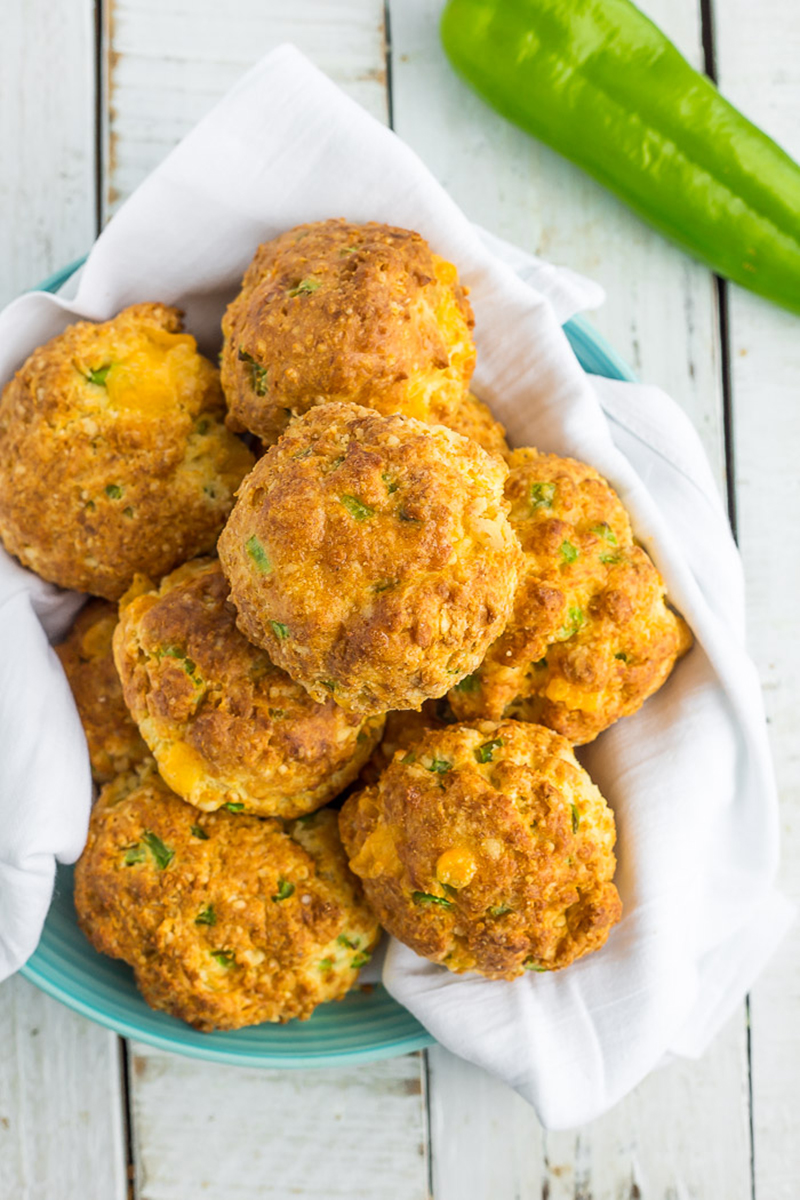 Slow Cooker New England Corn Chowder
This Slow Cooker New England Corn Chowder includes a secret ingredient – roasted New Mexico green chile!  A bowl of this chowder is perfect for autumn evenings.
Instant Pot Pulled Pork Chile Verde
This Instant Pot pulled pork chile verde is made by pressure cooking pieces of pork shoulder in a delicious homemade chile salsa verde made with roasted green chiles, tomatillos, onions, garlic and cilantro. Serve alone, as tacos or top french fries to make carnitas fries.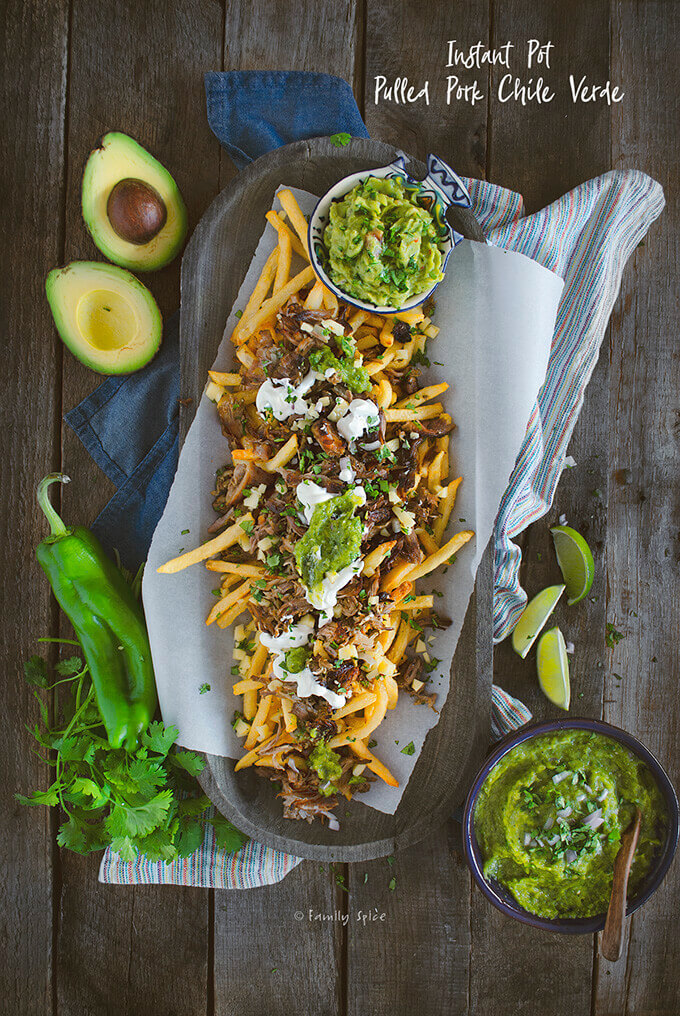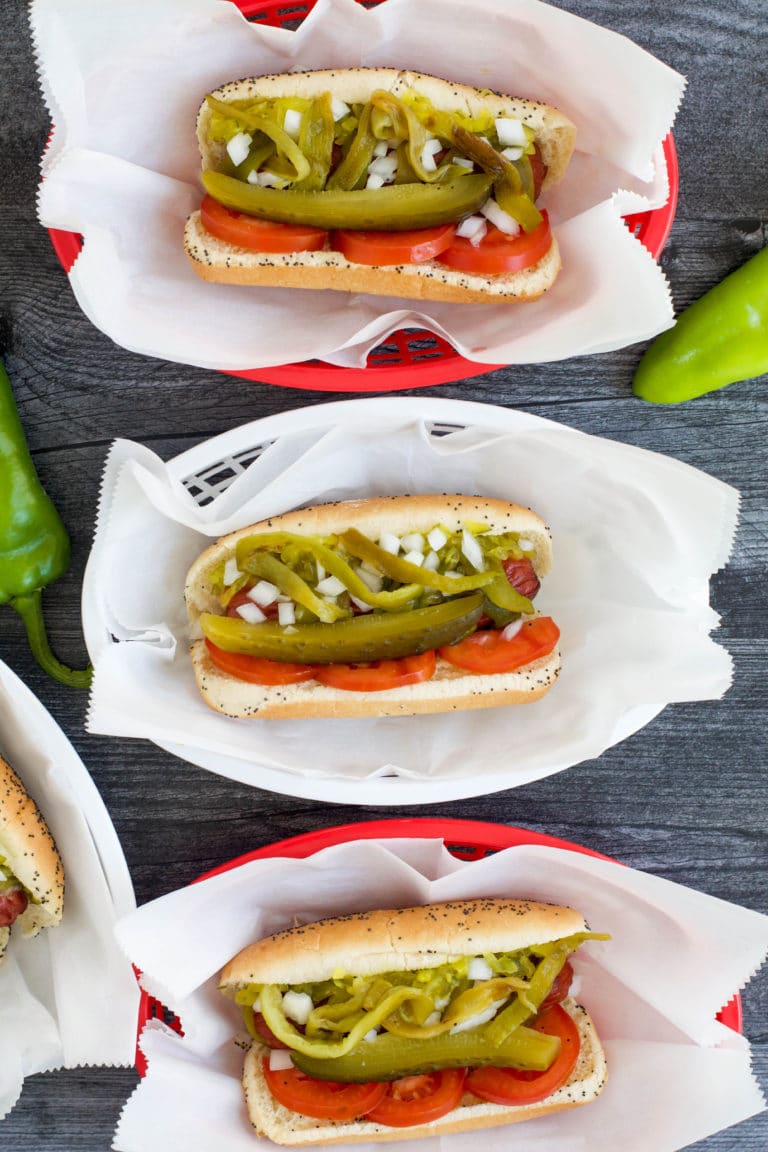 Chicago-Style Hot Dog with New Mexico Green Chile (Air Fryer Recipe)

Try New Mexico green chile in a dish from your region, like this Chicago-style hot dog with roasted New Mexico green chile – cooked in the air fryer to keep the kitchen cool!